After nearly two years of mostly full-time remote work for all our staff, it is with great pleasure that we've reopened our office spaces for regular use. Starting this Spring, many Uncharted colleagues, both familiar and unaccustomed, have begun returning for newly instituted in-person "team days." Team days address both the enduring effects of the pandemic and our staff's evolving preferences for flexible work arrangements.
A new work model
With team days, each project or product group in the company gets a few days a week in the office for dedicated collaboration. While finally sharing the same space again, team members can gather for important meetings, hold working sessions, and enjoy much-missed camaraderie and effective coordination. Scheduled team days also help us manage the health and safety of our staff, minimizing the impact should another COVID wave occur. Finally, they give those who have appreciated the flexibility of working from home the option to keep doing so on a part-time basis.
Meanwhile, we continue to support staff members who prefer alternate work arrangements. Anyone who wants to be in the office full time has a dedicated space they can occupy every day, and anyone who wants to work from home full time can keep doing so. After all, we have a significant remote contingent of staff members around the world, including many in the U.S. Even before the pandemic, we took pride in our ability to pull together from many different locales.
A redesigned workspace
Regardless of how many people are in the office, our return doesn't yet mean a complete resumption of pre-pandemic norms. We're of course adhering to the latest public health guidelines. With a new addition to the recent expansion of our space and a floorplan reimagined for fluid, centralized teamwork, accommodating social distancing has come naturally.
One aspect of the remodeling that we're most excited about is the transformation of our small eat-in kitchen into an open cafe-style workspace. Suitable for both coworking and grabbing a bite, the new kitchen gives staff the chance to break away from their desks. Here they can catch up with coworkers with whom they might not regularly interact or hunker down to work in the bright, coffee shop-like atmosphere overlooking Toronto Harbour and the historic Distillery District. A quick trip up the circular staircase to our rooftop patio provides access to our barbecue and outdoor deck.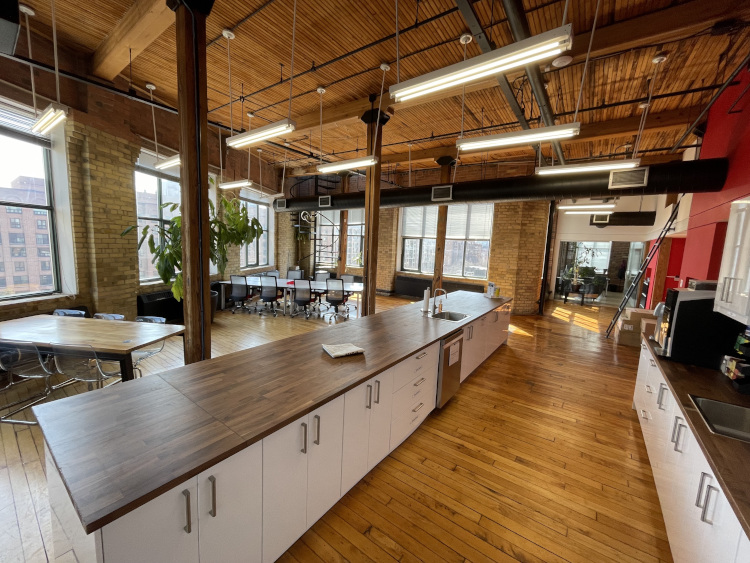 While we're still in the early days of returning to some semblance of normal, many of our staff have noted a great sense of relief in being able to connect face to face again. We're looking forward to building on this resumption of in-person collaboration and utilizing our newly reimagined space to generate the next great Uncharted innovations!
Related Posts:
We're Expanding!
Acknowledgements
While everyone at Uncharted is actively contributing to making a safe and effective workplace, particular thanks for a smooth and comfortable reopening goes to our operations staff, including Andrew Johnston, Joshua Cruz, Maria Tresidder, Joyce Wallace and Joshua Lafleur.
This post was written by Michael Crouch with editorial assistance from David Jonker and Richard Brath.