We're excited to introduce GeoTime® Live, a new crime-fighting tool that lets investigators use any device to instantly map live ping emails. GeoTime Live has already been successfully used in exigent scenarios for cases related to narcotics, homicide, fugitive, kidnappings, Amber Alerts, Silver Alerts, despondents and dispatch. It joins a suite of GeoTime® products with a long history of helping analysts and law enforcement do their jobs efficiently and accurately from normalizing data to analysis:
GeoTime Desktop for 3D mapping and analysis across time and space,
GeoTime Glimpse for quick drag-and-drop mapping of call records and mobile forensic data, and
GeoTime Enterprise for analysis, search and reporting of massive-scale, organization-wide data.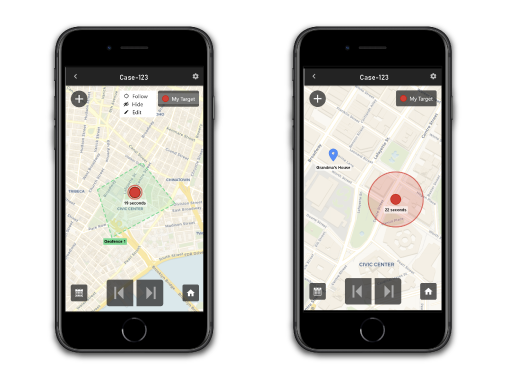 GeoTime Live is designed to help investigators focus on suspected criminal activities for day-to-day investigations and also under exigent circumstances. Whether accessed from any mobile phone, computer, tablet or toughbook, it saves investigators the process of manually copying and pasting live-streaming coordinates from their inboxes into separate systems. The GeoTime Live map automatically refreshes to focus on subject movements and is optimized for:
Real-time sharing that allows investigators to quickly sign in and:

Instantly and securely share live maps with their team.
Easily collaborate with other agencies, even those that don't have GeoTime Live.

Ease of use that ensures investigators can:

Automatically map ping data emails from all major U.S. carriers as well as other platforms and systems.
Browse that data on a simple and intuitive interactive map.
Add contextual landmarks and receive geofence alerts.
Review the accuracy for each ping on the map
It's so easy to figure out. We've got some guys on the team that haven't used it before. It's easy to explain to them what the uncertainty value is, because I can just tell them—look at the big circle around the little circle.

–GeoTime Live User
Learn More:
GeoTime®
Acknowledgements
GeoTime Live was designed and developed by Abi Rajive-Shanker, Bonnie Lum, Chris Regnier, Christian Natis, Joel Steele, Ryan Alexander, Ryan Van Spronsen, and Sam Codrington.
This post was written by Melissa Lameiras with editorial assistance from Michael Crouch.